SMT-1324, 24mm SMT Splice Tape belongs to KDW 13 series Special Splice Tape for Panasonic use. Customized Panasonic SMT Splice Tape product with a design specifically modified and adapted for KME CM402 models. Panasonic Special Splice Tape is available in anti-static matte black color for 8mm, 12mm, 16mm and 24mm cover tape dimensions.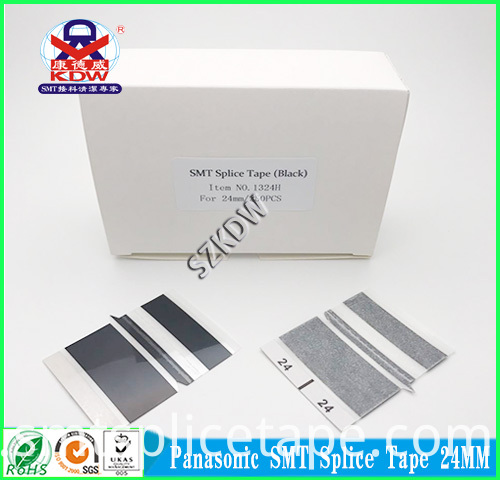 Basic Information:
Part Name: 24 mm. SMT Special Splice Tape
Part Number: SMT-1324
Function: Use for joining / connecting 24mm reel component cover tape
Compatible Machine(s): Panasonic, KME
Minimum Order: 1 box / 250 pcs.
Additional Information:
Brand: KDW
Place of Origin: China
Certification: RoHS, SGS, UKAS
Product advantages:
1. No auxiliary tools required
2. Easy to operate, save labor
3. Non - stop refueling, improve work efficiency
4. Strong adhesion, safe and reliable
5. Completely use the remaining material
Shipping Information:
Lead Time: 2 days
Shipping Way: DHL, FEDEX, EMS, UPS
Specification:
Product Name

Part Number

Product Description

Specification

Package Quantity

Color

Anti-static

matte black

Special splice tape for Panasonic

(13 Series)

SMT-1308

KDW for 8mm

8mm

500 pcs. / box

√

SMT-1312

KDW for 12mm

12mm

500 pcs. / box

√

SMT-1316

KDW for 16mm

16mm

500 pcs. / box

√

SMT-1324

KDW for 24mm

24mm

250 pcs. / box

√
Shenzhen KDW Adhesive Products Co., Ltd. is a professional production and sales enterprise specializing in the production and management of electronic industry special tapes and SMT splicing tools.
Ø SMT Splice Products: SMT(Surface Mount Technology) Splice Products, AI (Auto Insertion Machine) Splice Products, SMT Cover Tape Extender, AI axial Tape, SMT Trial Tape.
Ø SMT Splice Tools: SMT Splice Tool Cart, SMT Stapler Splice Tool, SMT Splice Clip , SMT Splice Special Cutter, SMT Splice Special Scissor
Ø SMT Clean Products: SMT Stencil Clean Rolls, Clean Paper Wiper, Clean Cloth Wiper
Ø Industrial Tape Products: PCB special adhesive tape, high-strength adhesive tape, anti-static tape, Kapton high temperature adhesive, masking tape, lithium battery special tape, waste tape, steel mesh protective film, PET high temperature masking tape, copper Foil tape.